Together for sustainable impact
We believe in an equal Saudi society, where every individual has access to opportunity and is free to reach their full potential. We believe that achieving this means bringing together key actors – individuals, nonprofits, business, government partners and others – to collectively work towards delivering lasting social change.
Our vision and mission
We seek out the people, nonprofits, companies and initiatives that share our vision of equality, and equip them with the tools, knowledge and expertise they need to solve complex social problems at scale. Through our advocacy work, we build support for policies that tackle the root causes of exclusion, and empower vulnerable communities. Through collaboration and investment in the nonprofit sector, we focus on creating a powerful ecosystem of impactful organisations, able to spark change from the ground up.
Our vision is of a thriving Saudi Arabia, driven by sustainable development, and supported by an active and empowered society.
We welcome your help in achieving this.
Partner with us
Vision
A Saudi society with equal opportunities, striving towards prosperity
Mission
To achieve prosperity by mobilising and enabling stakeholders through social investment, capacity building and advocacy
Our values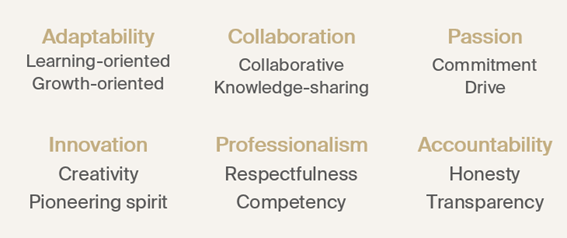 Our story
King Khalid Foundation was established in 2001 as an independent, national foundation, supported by the family of the late King Khalid bin Abdulaziz Al Saud. From inception, our goal was to support the creation of a more equitable Saudi society, where every individual has the opportunity and freedom to thrive – and through our work, to pay tribute to the values espoused by King Khalid in his lifetime.
Our story
Today, we are among Saudi Arabia's most innovative philanthropic institutions, pioneering an evidence-led approach to identifying and solving social challenges. We have helped to reposition the nonprofit sector as an active, effective partner in Saudi's future, and championed the rise of measurable, sustainable development. Our approach is bold and collaborative, and we continuously strive to listen, learn and evolve.
Our story
Led by our Board of Trustees, we remain committed to our mission of tackling inequality and promoting opportunity. Above all, we remain dedicated to honouring the beliefs and legacy of King Khalid, through service to the people of Saudi Arabia.
Our impact
183,984
lives impacted since 2011 through projects we've supported
SR 23.6m
invested through grantmaking since 2011
10
laws and policies influenced by our advocacy work since 2013
1,500
participants reached through our training workshops since 2008